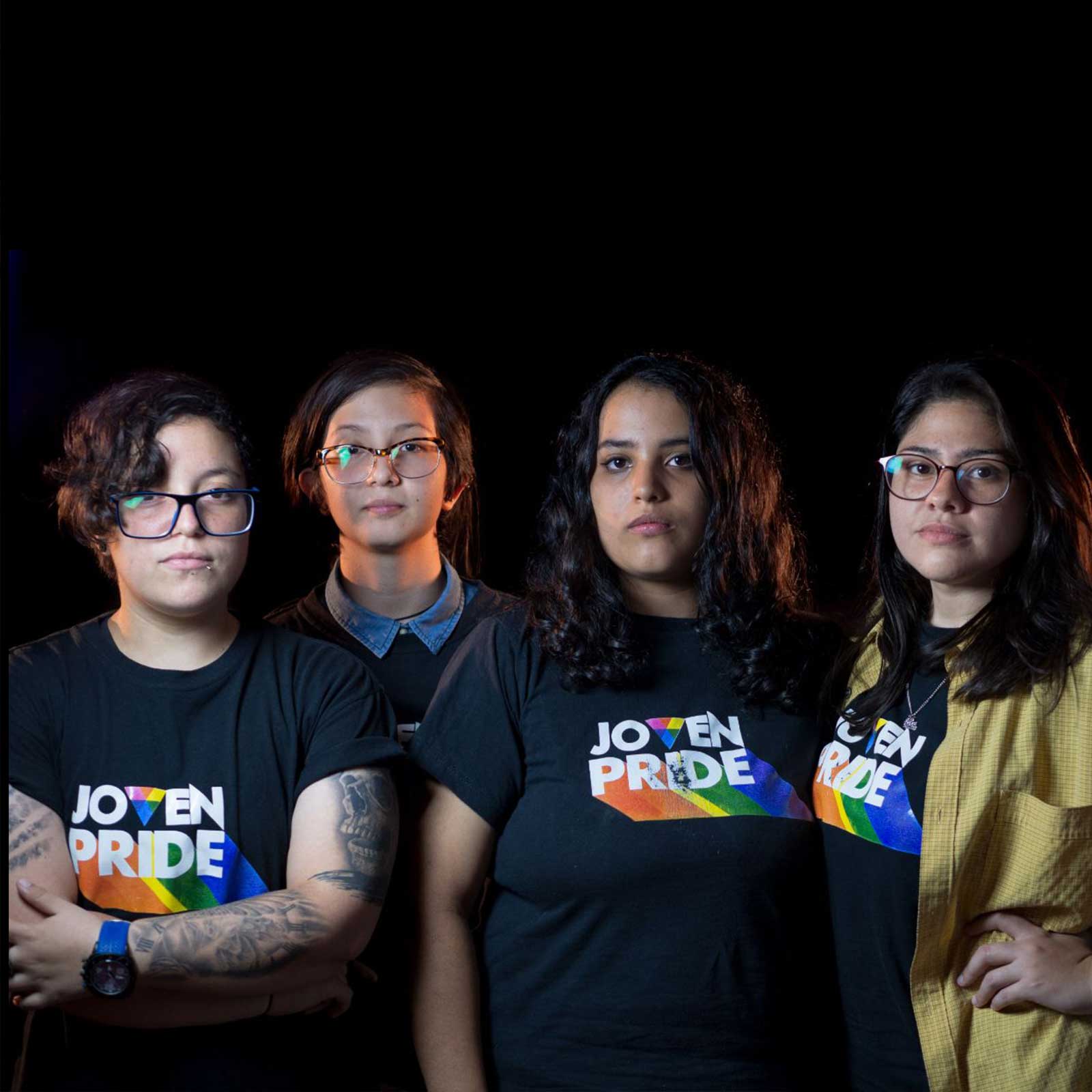 Vanessa Blanco and Daniela Ropero are two young women who are fighting for a fairer Venezuela. Vanessa Blanco is committed to greater visibility for young people in the LGBTI community, while Daniela Ropero wants to improve the self-confidence and future prospects of women by offering them courses in programming. In our interview, the two talk to us about challenges and hopes in a country that finds itself in a permanent state of political and economic crisis.



Vanessa Blanco, 22, director / co-founder of "Joven Pride", Caracas:



Julia Jaroschewski: Venezuela has been experiencing a political and social crisis for years – what are the greatest challenges facing lesbians, gays and trans people in Venezuela today?

Vanessa Blanco: LGBTI suffer from various forms of discrimination in Venezuela and are at risk of being mistreated and tortured – it is difficult for them to live a life in dignity. There are only few political instruments that prohibit discrimination on the grounds of a person's sexual orientation. Particularly young people in the LGBTI community face many challenges: they are discriminated against at universities, have restricted access to the employment market and healthcare system, and cannot start a family – it is impossible for them to get married. Much worse still are the stigmatization, physical and verbal assaults, blackmail, bullying and even murders. We experience discrimination at vital places such as schools and hospitals. Transsexuals, both men and women, cannot obtain any document that accurately reflects their gender, which creates considerable difficulties in everyday life.

JJ: To what extent is the corona crisis exacerbating the situation? Have the rights of LGBTI disappeared off the radar even more?

VB: The LGBTI community in Venezuela has always suffered from a lack of visibility. Many people in the LGBTI community work in informal sectors, which is no longer possible because of the pandemic. Homophobia is a major problem. There have been more violent assaults, murders and cases of abuse, especially on account of the social isolation – people are confined to their homes with their family or partner. A young woman was recently threatened by her father for being a lesbian. Of course, that kind of thing also happened in the past: LGBTI community members experience cultural stigma, are subject to conservative convictions and face greater hostility when they enter their homes, from their relatives and acquaintances, and at the places where they live.

JJ: Is the crisis perhaps a good time then for people to get themselves organized?

VB: People say that the crisis is giving rise to new opportunities. However, I do not believe there is one particular time for us to organize ourselves. When we have the feeling that our voices are not being heard, we must speak up. We have to simply adapt to the circumstances of the crisis, and we will continue.

JJ: What role is played for the LGBTI community by technology, the internet and social media?

VB: It is important to create a digital community because there are few physical spaces in the real world where we are safe. We need places where we can simply be ourselves, where we can express our thoughts and find like-minded people – places where we do not feel like freaks or lepers and where we are welcome if there is an emergency or we simply need to talk.

The internet and social media are without doubt a great help: information used to be available only for particular groups, for people with access to power. Nowadays, thanks to the internet everyone can do something, can make their voice heard, and has the chance to help others.

JJ: Has the importance of the internet increased further during the corona crisis?

VB: We have been affected by the pandemic like everyone else. However, without a digital world our workshops wouldn't take place and our activities would simply have been suspended. Before the pandemic the digital world, the internet, was a form of support; now it serves as our main source of information. Activists also use the digital sphere now, digital actions are seeing extreme growth, and this allows us to exchange our thoughts and ideas there since we are not able to meet in real life.

JJ: Does this digital presence also give rise to new risks for the LGBTI community?

VB: Naturally we are also the victims of cyber bullying online. For an LGBTI person in a violent and unsafe country like ours it is dangerous to appear in public – because of the sexist, homophobic and transphobic acts that are committed. It scares us to show ourselves publicly, and it puts us in a vulnerable position. At the same time, however, we have a need to make our life, our identity, our wishes and our rights visible. It should no longer be taboo to love and live openly.

JJ: How will Venezuela evolve in the coming years, and what impact will this have on the LGBTI community?

VB: I worry that the crisis in Venezuela will continue and become worse, that it will entail more difficulties for the people in the LGBTI community and will exacerbate the problems for young people. Nonetheless, I am also touched to see how more and more people are standing up for the LGBTI community, how more youth groups are forming, and how new debates are being created. I hope that our sexuality will no longer be a subject that is kept in the closet, and that there will be changes and a shift in attitudes in civil society, among the general public and especially in government. On the other hand, I am scared that the violence will increase again, that there will be even more hate crimes and institutionalized violence, and that it will hit those people who are engaged in activism – but I try to think positively.

Daniela Ropero, 32, CEO of "Chamatech" and founder of "Soy Mujer", Caracas:

JJ: For many people around the world, 2020 is a year of crisis because of corona. How are you coping?

Daniela Ropero: We find ourselves in a complex humanitarian crisis, as well as in a political, social and economic crisis. As a society, we can only do what is within our own power to improve the situation. In our organization we try to use technology to provide women and girls with more knowledge and tools with which to achieve better living conditions.

JJ: To what extent are women and girls particularly affected by the pandemic?

DR: Girls, women and children are among those groups in society that are particularly affected by the social and economic effects of the corona crisis – it is especially difficult for those who have no family support or no good education. We have a large proportion of young people who we could use to progress as a country.

JJ: Time and again we hear media reports about how the Venezuelan population is suffering. In what sense do you hope to create new realities and narratives through your work?

DR: The information that emerges from Venezuela can only reflect our reality to a certain degree. We want to create genuine opportunities, especially in the tech sector, for that part of the population that would otherwise have no access to technology. Technology is a rapidly-growing industry worldwide; this growth requires people with specialist skills, and there are not enough of them. The pandemic has further increased the demand for programmers and web designers – people who understand and manage the virtual world, and above all can create new virtual worlds.
Through our programmes, we want to give women a basic level of training that will allow them to move with confidence in the world of technology. Rather than simply teaching girls how to programme for fun, however, we want to turn them into genuine players who know how to code and use this as a means of improving their quality of life and their income, which can in turn have an impact on their families and communities.

JJ: Why is it so important for young people to learn how to deal with technology? Are women less respected in the tech world, or not taken seriously?

DR: It is very important for women to enter the technology and science sector, as we currently have a very considerable imbalance in Latin America: almost 90 percent of those who begin careers in technology companies and work in technical and scientific settings are men, while perhaps ten percent are women. This is an area of great growth that can generate profit for both the country's economy and for individuals.

JJ: How does this male dominance affect the development and application of technology?

DR: Artificial intelligence for example will make it easier and more convenient for us to perform an increasing number of daily tasks in the future. AI is designed not only for men, yet it is for the most part men who work in this area. Women, who account for a bigger share of the population, are left out – they have a different way of thinking and would approach AI differently. This also conflicts with the fact that we women are using technology more and more, yet we are not allowed to access its content. In other words, we should create more content and products for women, raise issues that are relevant to women, and develop products that meet our needs.

JJ: Can you give concrete examples of how technology is improving everyday life in Venezuela?

The internet and code are tools that enable us to be connected to the world. Social networks are a crucial means of connecting to one another, which also allows us to know what is happening around us. Our freedom of opinion is not restricted in social media. Technology is improving the lives of Venezuelans in many ways, be it an app that gives us access to medical drugs or an app that shows us how to improve our diet. For people who live in the interior of the country it would be more difficult to obtain information if it weren't for apps. At the moment many children cannot go to school because of the pandemic. What we now need is a platform that everyone could use to communicate. However, telephone providers are so expensive that access to the internet is limited.

JJ: How can one work effectively for a better future even with limited means?

DR: We work with limited resources all the time. Everyday problems pose major challenges, such as mobile phone reception. Mobile phones are our most important work tool; they play a bigger role than computers, tablets or smartphones, yet without reception we have a problem. We need network coverage because we communicate primarily via WhatsApp. To help disadvantaged girls advance, we load their phones with credit so that they have access to information – we want them to be able to attend classes by phone despite the restrictions. One of our main goals is for them to leave school with qualifications, as this will allow them to pursue a professional career.

JJ: What motivates you to do this job, and what do you hope it will achieve in the future?

DR: What motivates me is that we have the potential to create an advanced country with the talented people we have here. Though we are living through a humanitarian crisis, we have very capable young people who want to study. In the area of technology we could make quicker progress than we perhaps can imagine right now. I am Venezuelan and want to improve my country's situation, even if it is sometimes hard. I hope that we will one day be one of the countries in Latin America that achieves gender equality, that we will have female movers and shakers in the tech sector, and that through our knowledge we will have access to business and all the resources – and that after the crisis we can set in motion a process of transformation for Venezuela that will see feminists of my generation in positions of responsibility.

Interview by Julia Jaroschewski.